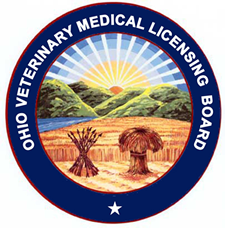 ---
The Ohio Veterinary Medical Licensing Board is in the process of moving to a new licensing system. Our system will be down from April 2nd to April 23rd. During this time we will not be accepting applications or renewals. You will be able to renew or apply for a new license any time after April 23rd online. We apologize for the inconvenience.

---
During the transition of instituting a new ELicensing system, the Board staff may be out of the office for extended periods of time.
Therefore, email is a preferable form of communication.
Please email info@ovmlb.state.oh.us.
---
Issuing a Valid Prescription - What Every Prescriber Needs to Know

---
77 S. High Street, 16th Floor
Columbus, Ohio 43215
614/644-5281 fax: 614/644-9038

New Screening Procedures for Visitors
All visitors to the Riffe Center must obtain a visitor badge at the High Street security desk, then proceed to the x-ray device and metal detector. All visitors and their belongings will be screened as they approach the elevator on the third level.

For questions, comments, or concerns:
email: info@ovmlb.state.oh.us